Regular Software Feature Updates from Curate

The best thing about Curate as your software solution? We LISTEN - very well, if we must say so - to what our clients say they want and expect in an event management software.
These wonderful updates are a result of our above average listening skills. Check them out!
User Roles
Are you adding a new user to your account and want to limit their access to your company settings? You can now do so in the User tab! This way they'll only be able to see notifications but your pricing profiles, integrations, and other company-wide settings will be secure from accidental touches.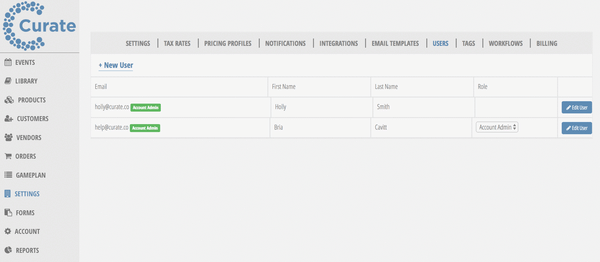 Event Owner First and Last Name Tokens
You can now customize your proposals further by using the event owner first name and last name tokens! This is a perfect chance to update your email templates so they're more personable with the event owner's name automatically included.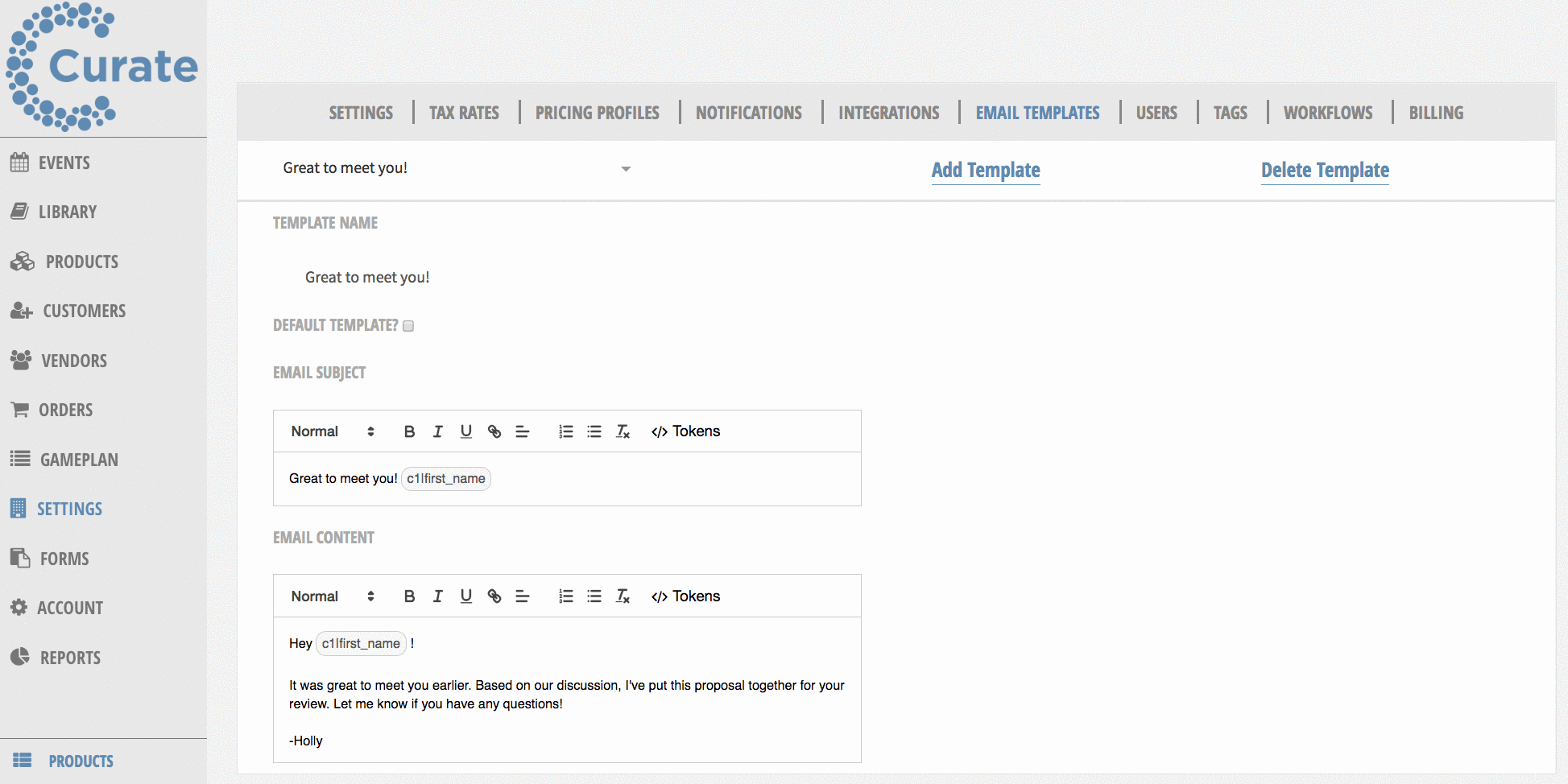 Photo Upload to Forms
CurateProposal user can now create an upload property to add to their forms! This will allow clients and potential clients to upload up to five inspiration images that you can easily import into your proposals from your image library.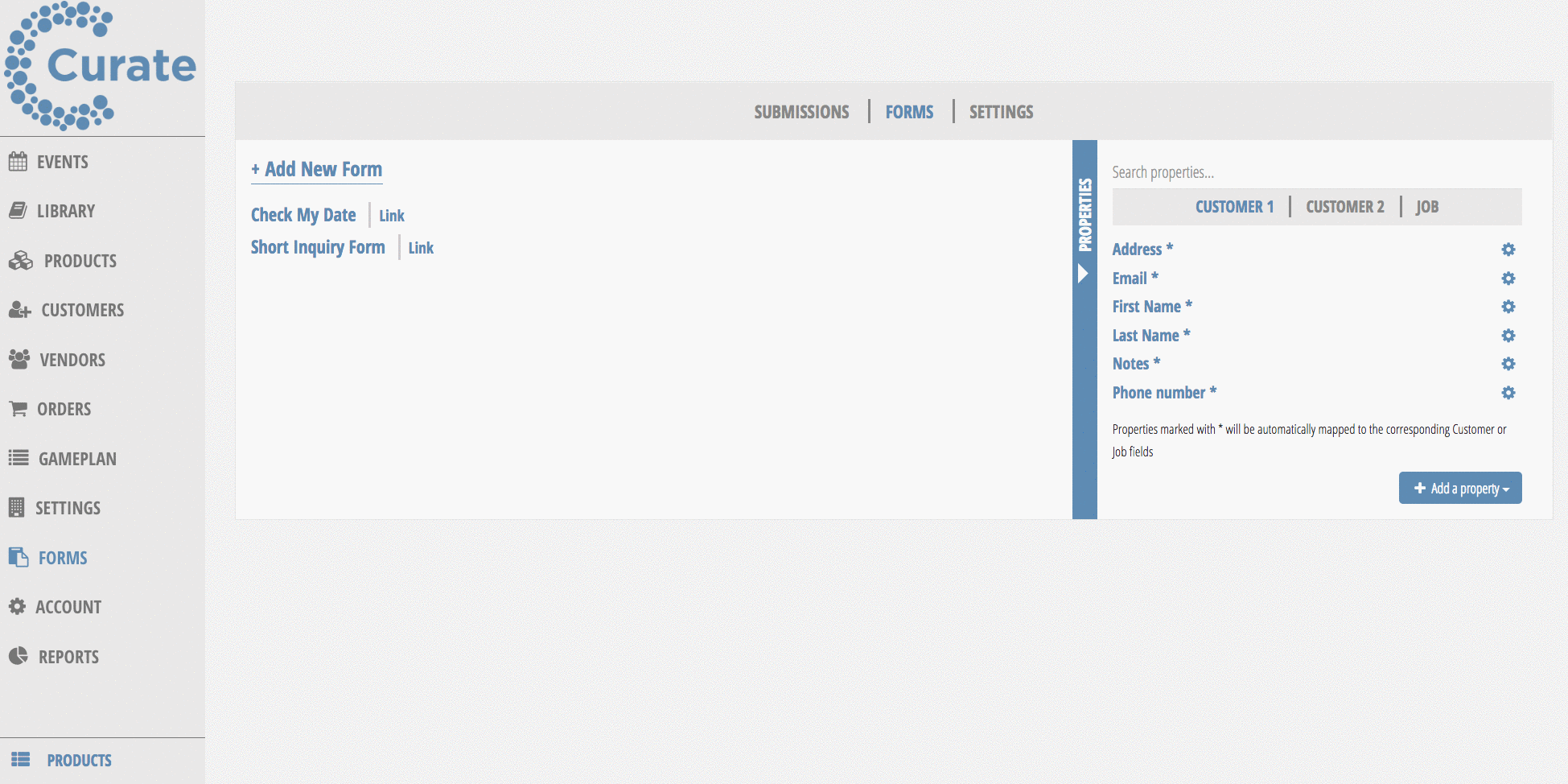 Have you been waiting to add Curate because of this feature? Well, let's get started now!
E-Signature Verification
You and your clients will now need to check off a box confirming that you acknowledge that your e-signature is legally binding. This upgrade gives you the best possible legal protection and is standardized across other e-signing softwares.

Optional Secondary Signatory
You can also choose whether or not to make the second customer a signatory on each of your events. This is perfect for when only the bride is paying and signing but you want to include the groom's information too.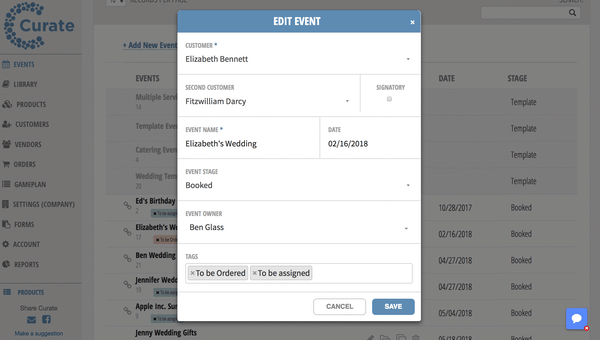 Event Number Tokens
You can now reference your event numbers in your emails to clients (or even in their proposals) with the simple insertion of an event number token.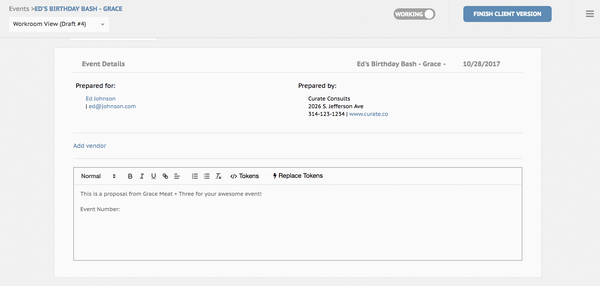 Outlook Calendar Integration
Each of your team members can now sync the events they own to their personal Outlook calendars by setting up the integration in their account tab.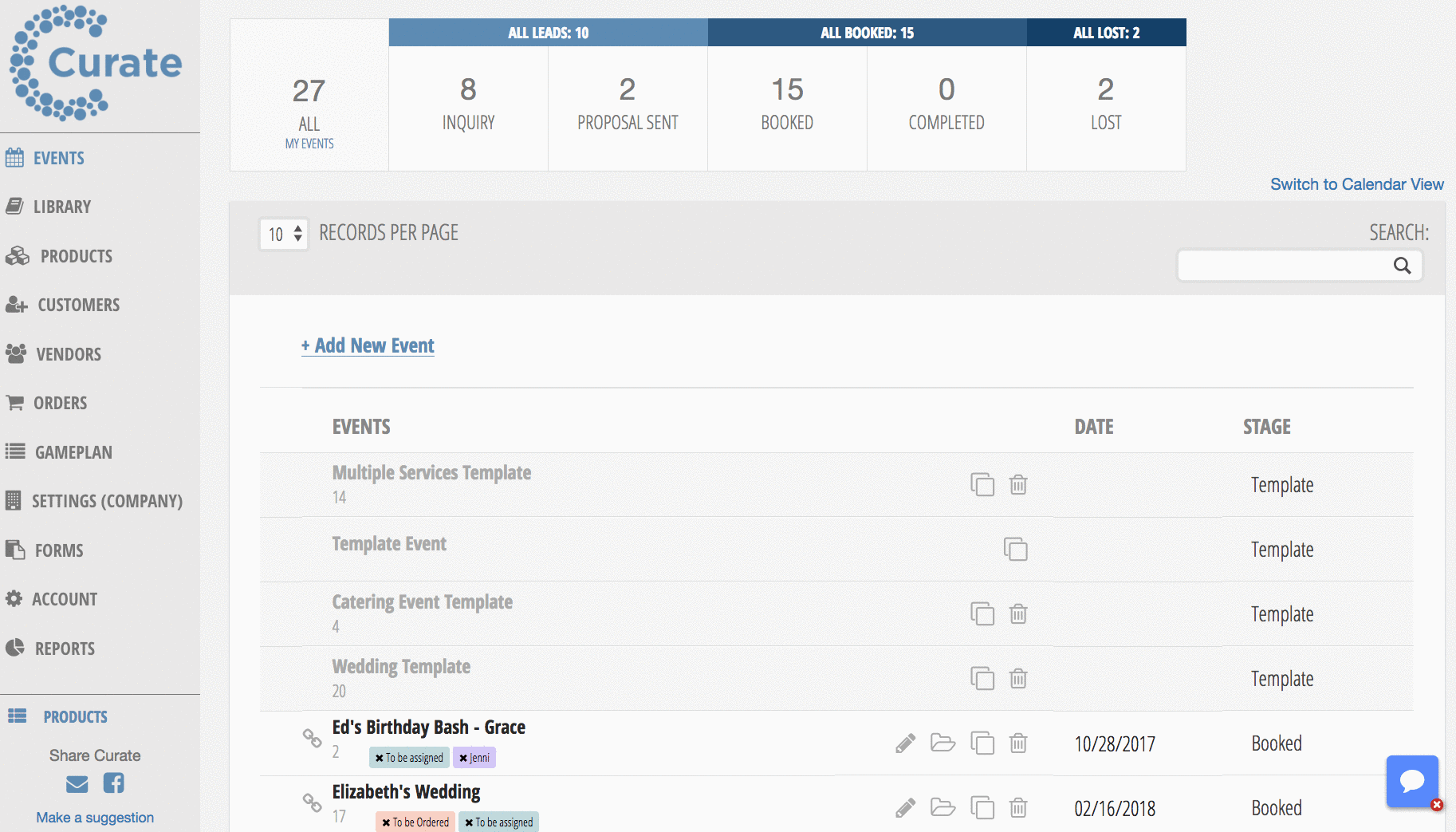 Reference ID
You can now add a reference ID to all of your library items for an easier ordering experience with your suppliers. This will show up next to the item name in lists from both the Gameplan and Order tabs.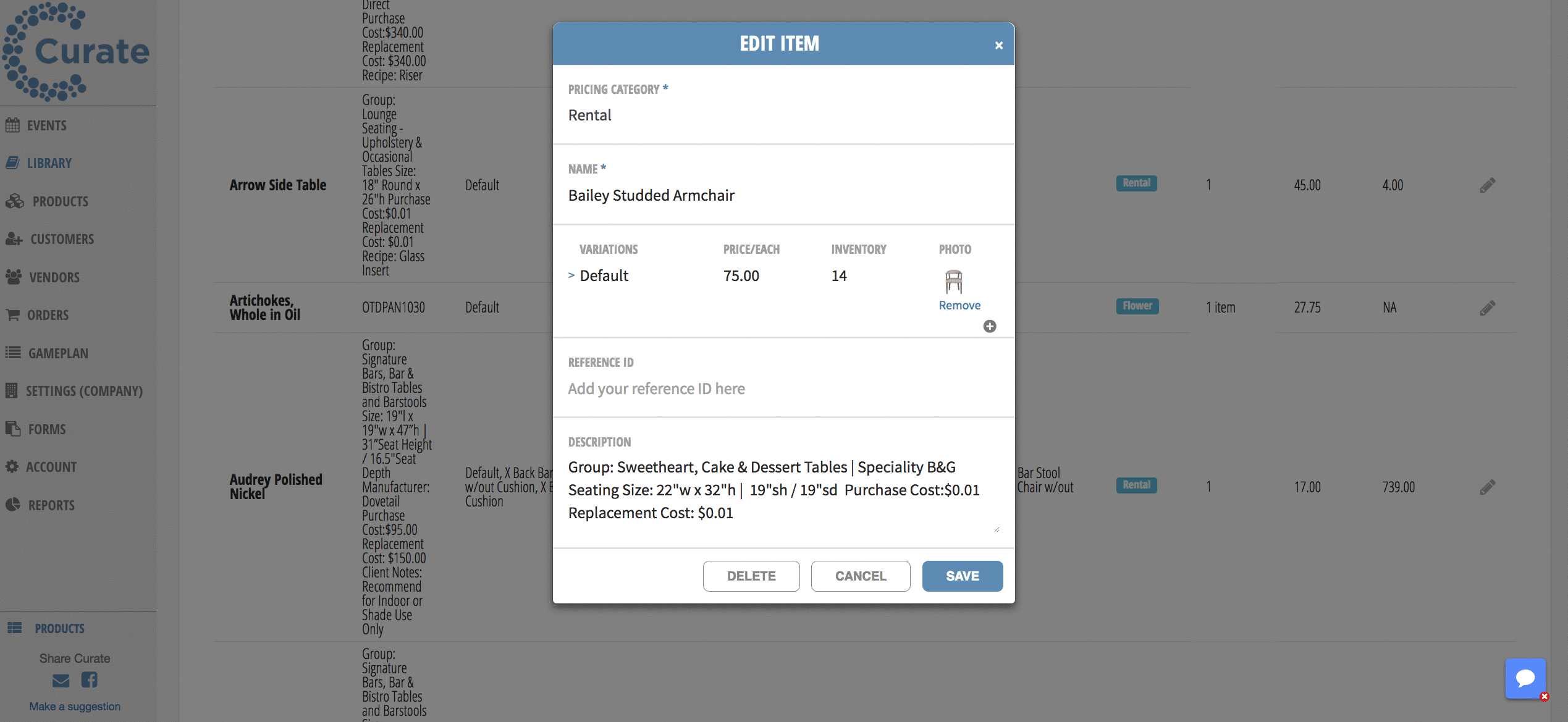 Cups and Teaspoons
Curate now supports the use of cups and teaspoons in your library! Just add in the details of how many ounces of the product makes up 1 cup to start using cups and teaspoons in your recipes.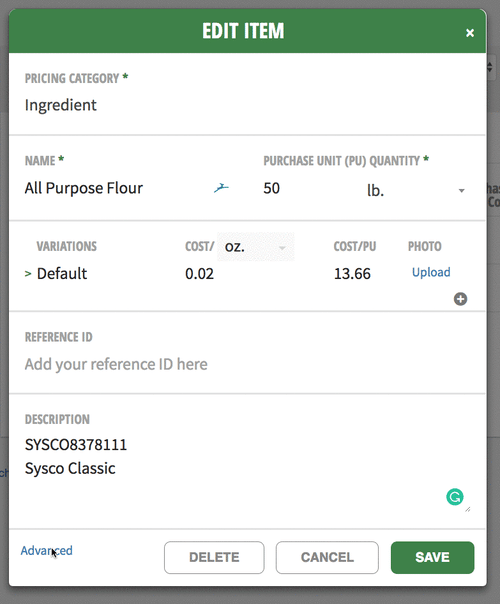 You can now customize the subject line of your supplier order to help maintain smooth communication and records.

Have multiple sales people set up in Curate? You can now see each user's close rate and the value of the events they own. Just go to the Reports tab, select the Sales report and date range, and generate your report.

Want to streamline your sales processes?
We've made updates to our chat icon that will be especially helpful for users who work from mobile devices. You can now hit the little X over the chat box to remove the chat from your screen for a smoother experience. Need to reach out? Just refresh the page and the chat box will reappear!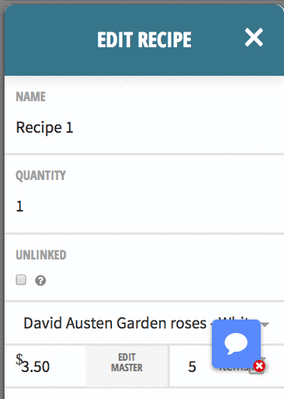 We're making it easier to manage your account by moving the Billing tab to Settings (Company).
Here you can also upgrade your account or add users with a few clicks.

Event Gameplan
You can now create custom game plans for all of your events. This can include internal tasks--such as when flower processing needs to be done, who is in charge of which arrangements, and when to deliver items--and tasks for the client--such as when final changes can be made. You can select which tasks can be viewed by the client so you can keep it all in one place and streamline your internal processes.
Not currently using Curate? Let's change that!
Create Templates
Did you know that creating an event template saves an average of 15 minutes per proposal? To create a template, duplicate out one of your existing proposals that has all the usual stuff you'd like to include (cover image, standard set of line items, tax rates, payment plan, contract, etc.,). Be sure to change the stage to template, then customize the template to your liking.
View Full Size Photos
Gone are the days of having to download photos from your proposal to see them in full size. You and your clients can now click the icons of photos in your proposal to bring them to full size.
Forms Update
You can now add notes to your form submissions and add tags to them too. This is perfect for keeping track of potential clients who've filled out an interest form but haven't committed to a consultation yet. You can also do a mass archive/unarchive of forms by hovering over the left hand side of each line to select which events you would like to select.
These are only some of the ways we can help your event business.
Google calendar integration
You're able to connect up your Curate account to your company account to manage everything happening in your studio. Any time that you move an event to booked, it will be added to your calendar. You're able to easily select for payment reminders to be sent to your calendar as well.
Event tagging
Want more pipeline options? They're yours. Want to indicate which of your sales team is in charge of an event? Just add their names as tags. Want to be able to separate between corporate, weddings, and social events? Tags, tags, tags! This will make running your studio so much easier!
Branding Integration
Your brand is super important to your studio. With this upgrade, you're able to customize the colors from
Curate
Blue to whatever your brand is! The "
Curate
Blue" link text in the proposal, the "view proposal" button sent in your emails, all of the above! We have some more really cool ideas that we'll be releasing in the future as well for
Orders Tab
This was our first studio feature released so you're probably familiar with this alert at the top of the screen. You're able to easily add all your shopping lists together and place orders with wholesalers. We're still working on a plan for this so have no fear that all of your orders will disappear. We'll keep you in the loop once we have more info!
Other Features
We have dozens of other features in the wings to build as we get to them. Stay tuned!
Think these features can help you and your team?