We've seen a lot of our event florists start adding e-commerce to their websites in order to make money during COVID-19.
Some of them have seen unprecedented sales during Mother's Day 2020 by doing this. A lot of them are finding this to be a nice new stream of revenue for their business.
While they were originally doing this temporarily, they've seen how this can really benefit their business.
Here are just some reasons why you should do the same.
1. Increasing the value of your event client base
You are constantly creating amazing experiences for your customers through your event business. Weddings are some of the most memorable events is a person's lifetime.
But your relationship with your clients can go beyond their big day. There are anniversaries, birthdays, Valentine's Day, Mother's Day, and more that they celebrate that could be made even more amazing with your flowers.
You have an opportunity to continue post-event magic.
For example, say you can get every client to purchase 4 arrangements a year at an average of $75 an arrangement and that client relationship on average lasts 10 years. That's an additional $3,000 of life time value from one wedding client!
Marketing Tip

: Email the groom reminders of anniversary coming up with a custom bouquet made with some of their wedding flowers. Better yet, offer a subscription service so the groom will never forget an anniversary, Valentine's Day, or birthday.
2. Build brand love
Weddings are a once in a lifetime event, but you could be building relationships with you prospective clients long before they meet Mr. Right.
An online business can help you reach more people, more frequently and keep your business top of mind when that day finally comes. They already know and love your unique aesthetic so you'll have a leg up on the competition for sure.
Marketing Tip

: Build a strong cohesive brand between your events and everyday business. Allow your daily work to be an extension of your event business, rather than a separate business all together with a similar aesthetic. Try to attract the same kinds of clients in both so you have an opportunity cross-market. For example, if you specialize in luxury weddings, then make those dailies tailored to that audience. Don't try to be everything for everyone.
3. The event florist's edge
You specialize in creating a gorgeous and memorable experience for your clients that they will never forget. Translating this into an online store might not seem like a natural next step but it is your secret weapon in differentiating your business from the competition.
E-commerce is far from a trend, it is a way of life these days and the best e-commerce players know that customer experience is king.
As an event florist, this is what you know best. Now it's time to translate that into an online business.
Marketing Tip

: Delight your customers with an unexpected bloom for themselves with an inspirational note when they come and pick up a gift order. The experience creates added value, allowing you to charge a premium price.
4. Minimal investment required
You can start as big or as little as you want. That is the flexibility of having an online store.
Unlike traditional retail where you have to have a physical location, you can do this out of your home.
Your store front is your website and there are many options for building e-commerce into your website.
Marketing Tip

: Once you have your online store set up, use your audience you've already built up in social and email to get the word out. Start testing offers and products to see what resonates. Expand what's successful into paid channels to get even more business.
5. Software Makes it Easy.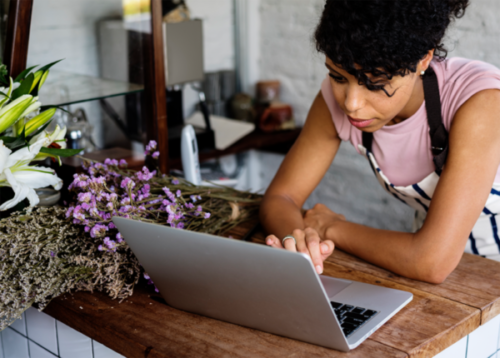 There may have been many reasons why you've written off the traditional floral retail business model.
Now with modern software, you can sell anywhere you'd like (even in stores). Rethink what a more transactional business model can be for you.
We are here to help.
We've seen more and more florists get into the delivery and drop off business and it's paying off big. They've also realized the headaches that come with managing multiple systems that don't communicate.
With increased volume of arrangements, automation is key to making things work seamlessly.
If you've tried Curate Proposals or Curate COGS, you already know how it makes quoting and pricing your events a breeze while also organizing all those little pieces for the big day.
With our new Orders product, you will be able to get that same streamlining with your own online store with full e-commerce functionality designed specifically with your business in mind.
Need to take phone orders or or in person orders? It also has POS functionality!

Best of all, it's integrated with Curate COGS so you can have accurate pricing and the margins you need to make for every product you sell.
Want to see what it can do for your business? Schedule a consultation with one of our experts!